This wiki is about the Tokusatsu series, Madan Senki Ryukendo. It strives to be the go-to resource on these shows. Know of an episode/special/movie we don't have, or have information on one we do that we do not know about? Join in and add it!
If you're interested in helping contribute to this Wiki, check out the Community page.
Ryukendo Wiki can be accessed via
WWW.RYUKENDO.FANDOM.COM
Contact an Admin:
Admin Noticeboard | Celestialcat32
Welcome
Madan Senki Ryukendo Wiki (魔弾戦記リュウケンドー, Madan Senki Ryūkendō?) is a Japanese Superhero tokusatsu, Action and Science fiction television series. The program aired at 7:00 JST on TV Aichi from January 8 to December 31, 2006, with each episode lasted around 24 to 25 minutes. It is created by Ōji Hiroi, Yūichirō Hira, Yuzuru Miyauchi and Tsuyoshi Yoshida, with Tōru Kuroda and Hiroshi Takegawa as Executive producers and Hitoshi Nakajima and Yūto Suzuki as Producers.
Akebono City is a peaceful community overflowing with humanity. Since there was a Power Spot that released the magical power in the community, the people were distressed by the threat of the demon army Jamanga who are gathering Minus Energy (マイナスエネルギー Mainasu Enerugī) from the frightened masses for a sinister purpose. The secret organization S.H.O.T. was formed to protect the people of the community from the Jamanga, concealing their existence as ordinary members of the Akebono Police Station, which considers demons beyond their jurisdiction. Kenji Narukami, a student of the Narukami Dragon God Style (鳴神龍神流 Narukami Ryūjinryū) for fighting demons, arrives at Akebono to fight the demons, eventually getting his wish when he is transformed to RyuKenDo and faces off against Jamanga's forces together with his friends to restore peace in the community.
---
New pages | Categories | Wiki tutorial | Images | Recent Changes | Social Activity | New Pages | Wanted Pages | Users | Help pages | Shared Help | Statistics | Currently editing over 101 articles.


---
Featured Articles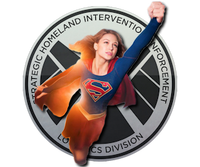 ---
Community
To write a new article, just enter the article title in the box below.
Not sure where to start?
If you are new to wikis, you may want to read the Help pages.
Adding content
If you want to help but you're not sure where to start, try improving the various stub articles by expanding them.
Another helpful activity would be to check the list of wanted pages for frequently linked-to articles that don't exist yet.
Wiki maintenance